In a strong showing of grit, a quality we strive for in our Bee Founder teams, Co-Founders Stephan Thomas and Joe Inkenbrandt of Identify3D have closed a multi-million investment round led by our friends at SoftTech VC. Identify3D provides design protection, quality assurance, and data logistics for digital manufacturing computer-based 3D visualization, analytics and collaboration tools. The capital will be used for global market expansion and partner integration in digital manufacturing.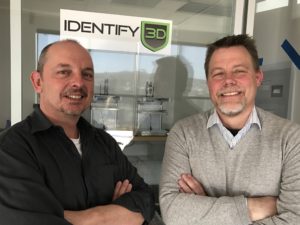 We first invested in Identify3D back in the summer of 2015, and as the pre-seed Lead Investor and First Investor for Identify3D, we recognized the huge potential when it was only Stephan and Joe as a two-man team. We met the guys through CalFounders, a community for Berkeley alumni founders, and we were immediately drawn to their incredible domain expertise and passion for the future of digital manufacturing.
We're big believers in Identify3D's passion to empower manufacturers. With this new capital, Identify3D can meet demand from its existing customer base in aerospace and defense and expand to meet the needs of other customers in power generation, oil and gas, transportation and healthcare.
Congrats Joe & Stephan and the entire team at Identify3D for striving to transform the digital manufacturing landscape. They're on their way towards protecting the integrity of both the design and the manufacturing process, and we are honored to be their partners.