Today, we're announcing our investment in StatMuse and congratulating them on their Series A fundraise. Through our initial conversations with Eli and Adam, we became convinced of the value that transparency and natural language access would bring to large datasets. After all, what good is data if its insights can never be unlocked by those that need them most? Here at Bee Partners, we believe that humans are the creatives and technology executes on the inquiries and insights leaders create. It seemed so straightforward.

Then something different happened. Through their first experiments on the NBA dataset, sports fanatics and data hounds raced to the product. Then the newly formed Disney Accelerator, powered by Techstars, hit StatMuse's radar and seemed like a perfect fit. Disney/ESPN then took notice on how users were generating content, only to then engage directly and within the Twitter-verse. Their internal teams were intrigued, and StatMuse leveraged its exposure with Disney executives to channel into ESPN and by proxy the major sports leagues. From Burbank to Bristol, a deal was crafted. Product market fit appeared on the horizon.
The team realized that sports datasets tend to be quite organized over time and carry a distinct, straightforward lexicon. What started as perhaps a perfect training ground for the NLP + visualization technology that StatMuse broadly proposed, has now became a new basis for next-gen user generated content. The sports industry is sufficiently large to justify its own data visualization tool, take it for a spin and we're confident you'll agree.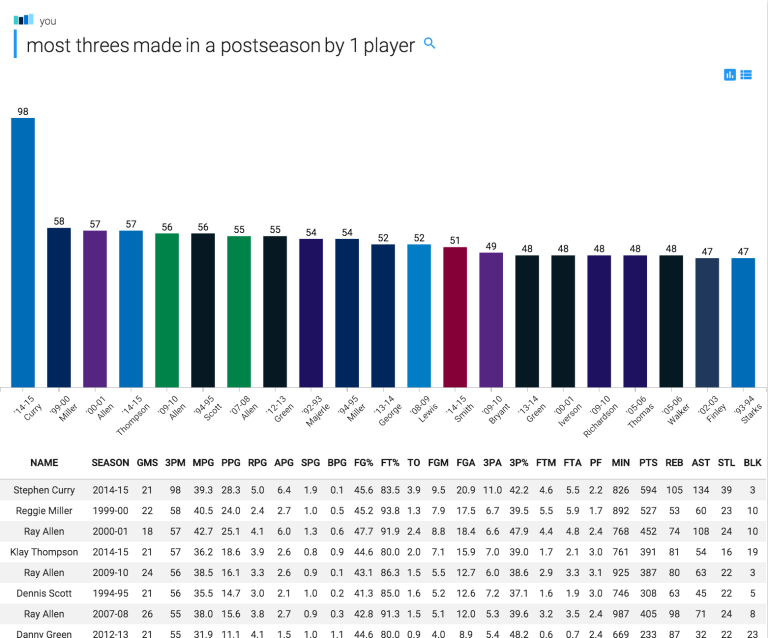 With that, we are excited to participate in StatMuse's just announced Series A financing. The $10 million round saw participation from Techstars, Disney, Greycroft, Deep Fork, Allen & Co., former NBA commissioner David Stern, and of course, Bee Partners Also in a fun connection, one of Garrett's earliest mentors in the Idaho VC community, Mark Solon, now of TechStars, will sit on the company's board. We look forward to supporting to company in the months and years ahead!
About StatMuse Inc.
StatMuse Inc. is an interactive media platform for sports fans to search, share and discover sports, powered by natural language search technology.
StatMuse uses artificial intelligence to provide engaging, visual answers to every sports fan's must-know sports questions, instantly. On StatMuse, every search result is a piece of content and every sports fan is a content creator.
Sign up for free at www.statmuse.com
For the latest news and updates follow @statmuse